WifiSMS 1.1.0 has been update, WifiSMS 1.1.0 works with iOS 5 or higher.
WifiSMS 1.1.0 has very basic iMessage Support. WifiSMS 1.1.0 has requirement of iOS 4.0 or higher till iOS5. WifiSMS Send and receive SMS from your computer over WiFi. You can activate WifiSMS via SBSetting, after Installing. No Homescreen icon is added by this Tweak. Then go to http://myIPAddress:8080/ from your PC's web browser to send and receive SMS. Replace myIPAddress with your phone's IP address.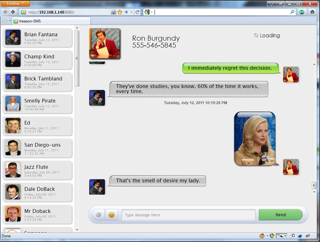 What's new in this version?
Fixed shift-enter on chrome
Fixed incoming imessage image display
Added 2 previously unknown imessage flags credit: @Rian083
Added french translation ( http://IP:Port/index-fr.html ) credit: @daReal68
Other bugs I can't remember ATM
Download WifiSMS 1.1.0 available in Cydia via the BigBoss Repo for free and supports iOS 5.